MARQUIS SPAS Crown SERIES
The Euphoria is a royal party in the making. Featuring a symmetrical layout with seven multilevel seats, including two extra deep therapy seats positioned side-by-side with full-body massage. Every seat can reach the explosive Regal Whitewater-4 jet for powerful leg and foot therapy. Five H.O.T. Zones ensure you and your guests enjoy limitless euphoria!
Exterior Dimensions: 90″ x 90″ x 36″
Jet Count: 53
Capacity/Seating: 7
Pumps: (2) 240 GPM – dual speed pumps
Electrical: 240V – 50 amp
Filtration: 2 filter(s)
Water Capacity: 380 gallons
Weight Dry/Full: 825/3994 lbs
ENVIRONMENTS™ FOR YOUR HOT TUB
Designed and built by Marquis with the same exacting craftsmanship and durable materials, optional Crown Environment modules perfectly complement your Crown Collection hot tub and offer outdoor seating. Choose from a collection of steps and benches elevate your hot tub and add a higher level of sophistication.
With the ability to control audio playback from your Crown MQTouch™ color touch screen, the optional Bluetooth Audio System brings wireless music streaming to your Crown Collection hot tub. Twin speakers and a subwoofer help you relax or get the party started, and offer the soothing benefits of music therapy.
The Jewel LED lighting option adds dimmable multicolor LEDs to the spa interior, dimmable white LEDs to the exterior spa corners, and backlighting to the Dynamic Flow Control valve. Set the perfect mood and save your favorite presets for next time.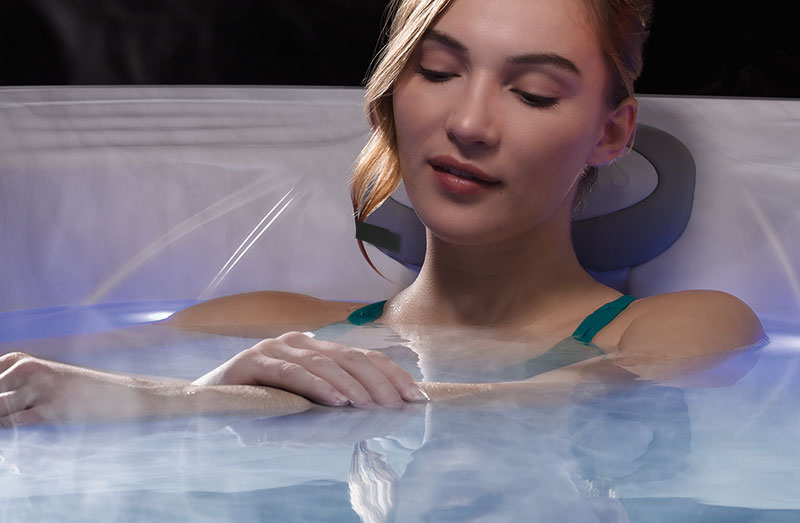 REJUVENATE YOUR SKIN WITH MICROSILK®
Using MicroSilk is like giving your entire body an oxygen facial. Optional on all Crown Collection spas, MicroSilk helps to reduce the appearance of fine lines and wrinkles and may relieve symptoms of certain skin conditions. Billions of oxygen microbubbles penetrate deeply into skin pores and hair follicles to remove impurities and promote blood circulation and hydration, leaving your skin refreshed and rejuvenated.